By car to Albania
By car to Albania
"Once in a lifetime"
The journey begins with these landscapes ..
Introduction
Preparing for the trip
The first day of driving
Second day of driving
Journey home begins
The rest of the way
Summary
Introduction
The journey will start on July 8, 2020, unless the borders close due to Covid 19 in the transit countries before then. I will update this blog as the journey progresses as there is time for writing.
The following section provides important information for those planning a trip.
Preparing for the trip
Our flights at the beginning of June were canceled, as were thousands of other tourists. Too bad, because we were going to get to Albania on the direct flights started by Norwegian. The flight time would have been almost half shortylower than before. Optimistic however, I hoped that if we could get back this summer. For a month I watched and waited for Travelliberalization of restrictions and opening of borders. No flights were found and if they were found, they were either unnecessarily expensive or difficult due to numerous exchanges. If you dare to book them, youdaddy tense reservations cancellationta.
Our future second in Albania– /pensionour home on waited finishing and furnishing, so the need to enter Albania oof burning. Facebook columnsIt turned out that you also have your own car the journey could not be folded ja even to the people olivat reportedly escaped. Some kind of little adventurer woke up in me and not no longer had to impossible to try to cover 3500 kilometers with your own car. Factor brave my idea "Once in a lifetime" with pride to his wife. BI immediately stated that I could not sit in the car for such a long time . After that, I humbly returned for a few more days to browse the airline pages, until again I began to think carefully , "What if, though?" .
I returned to the Facebook Albania groups and I got encouraging comments from there about how the trips had gone well. One member of the site has already traveled through Europe 8 times to reach on holiday to Albania and now he was again going on a trip. It would seem like a first time even the most adventurous to leave alone and exceeds quickly calculated the borders of eight states. So I decided to ask what he would think if I went to "peso" to learn e.g. border practices.
Soon we were planning a travel program or actually he was planning it and I said the plan was good because I couldn't really say anything else. The ferry is in Tallinn shortly after midnight. From there we drive through the Baltics during the night so that it sways. EOn the Polish border we take a few hours of rest and then the journey continues. Then Poland, the Czech Republic and Hungary . Only these main would be the first place to stay. After thinking about this, I decided to take my car to the fridge and pack it full of energy .
I started making a list of papers to take on the trip. Passports and airline tickets are not available for this trip not enough anymore. VThe insurance company must request an international certificate of motor insurance (green card) , a registration statement from Trafi and, if the car is owned by a credit company, an export power of attorney is also required. An EU driving license should be valid in all countries of transit. Another option would be to obtain an international driver's license. In addition, the flight ticket must be replaced by a ferry ticket to get to Tallinn from Helsinki.
For Estonia and other Baltic countries, the car must be equipped with a fire extinguisher , a first aid kit and a safety vest. During Covid 19, the use of a mask is mandatory in some countries , as it must be easily snatched if it appears to be inspected by border guards. In this connection, your hands must also be found in your luggage. I also decided to have the car serviced at a dealership before the trip for safety reasons, even though the price was quite different from the one at the repair shop.
I also ordered a windshield camera because there could be a variety of situations ahead along the way. In this case, video recordings may be useful because they speak more than a thousand words with poor language skills in a nervous state of mind. Now you can say, "Let's watch the video."
The first day of driving
I don't remember when opening a hotel room door would have been as much fun as it is today. Getting to that hotel was a great adventure, as the navigator seemed to be circling us around and along the streets of the city of Krakow before finding the hotel. Admittedly, the most important thing is to get there and, after all, it was as if you were in the yard of a real hotel. The night shower then felt downright blissful, as she was able to wash her tired face with drops of sweat that had dried several times, not all of which were due to the heat.
After my youthful adventures, I haven't tried 36 hours of surveillance, but now that too was done. Driving hours accumulated during the first 27 days and not all fit into the same day. The trip started in Ylämylly Jyrinkylä at noon, because before the actual trip I had to visit the cottage to check the places and water the flowers.
Raimo, who became known from Albania's Facebook groups, jumped from Varkaus as a driving buddy, and in Helsinki there was a meeting with Atirda, who left as a guide in another car. He had experience of eight car trips to Albania, which seemed very trustworthy to a first-timer. Together with Atirda, we dated at the Verkkokauppa.com café near the Western Terminal. We sat at a table with one of the chairs just heated by Renny Harlin, who was looking for coffee for the film crew.
The ferry left Tallinn a little ahead of schedule almost empty. So there was little need to fear the corona. On the boat trip, we refueled for the trip and watched the itinerary planned by Atirda. We drove out of the ferry halfway to one of the countries at night and the actual journey began. We got through Estonia, Lithuania and Latvia quickly by morning, because there was almost no traffic at night. There was no need to fear the wild overtaking that the Baltics are used to seeing. The borders were open despite the corona and there were no border controls until the end of the trip to Serbia and Kosovo.
Next was Poland, at the border of which the border guards watched us as we passed. However, no one slowed our journey by demanding that we stop. After the border, our plan was to take a couple of hours break in Suwałk and even take a nap in the car. However, none of us slept so much as to temper the nap.
Atirda drank coffee and set off to continue her journey. We men were so hungry that we had to go in search of a place to eat. A suitable and comfortable place was found in the city center, but parking the car was problematic. We did not understand the Polish instructions for the parking machine so much that we immediately found instructions for paying by credit card in English and we did not have the zloty either. We had to resort to the help of the workers on the street and they were happy to help. We got paid for the parking fee. After delicious pizzas, we set off to continue our journey.
This is how the Polish Run began, where the rest of Friday and a little Saturday passed. Krakow was our destination near the Slovak border. Poland was the promised land for trucks. In places, they seemed to be more than cars. On the highways, you could stare in the rearview mirror without feeling if there was a change of lane in mind. In fact, two hundred luxury cars, or at least representatives of well-known German brands, could be burrowed past. After all, according to recent research, people who drive under these signs do not have the most comfortable qualities. Admittedly, even small and old cars get surprisingly hard, which we also noticed.
Surprisingly, our journey was interrupted for an hour on the highway because of a serious accident somewhere in front of us. We wondered, of course, what the car that might have passed us by might be. Anyway, for the first time, our travel schedule was deceived properly and we got stuck in an endlessly long hose as long as the police started driving traffic off the highway. In this hurry, the road pilots had not noticed that not everyone knew how to get back on the right track. The cars blocked all the nearby roads as they crowded again, each knowing where to go in an attempt to find their way back to the highway. The exact location of the accident was not known either, so it also complicated the situation. We finally got to continue our journey and there were still ferocious bypasses. Even through experience, man does not learn to be more careful.
However, Krakow started approaching at three in the morning and was accompanied by another adventure, which I referred to at the beginning of my blog. Atirda had already arrived a little earlier. Forced to be "jealous" to say that he made it to the final trip to all the places earlier than we did, even though he drove the whole trip alone. The navigator steered and recycled us around the city and it often felt like we had been here before. Second, the traffic light designer had given us an impossible task. How to drive in the green line. It didn't work because every light turned red right in front of our eyes. I simply didn't dare drive fast enough. Krakow is clearly meant for rally drivers.
However, after a long city drive, our hotel was found and we got a well-deserved night break, which some of us were able to take advantage of effectively. Personally, I had suffered a severe headache that woke me up at night every now and then. It was seven to wake up to a hotel breakfast, which we ate again and set off. So we didn't have much time to sleep at this point.
Second day of driving
Even with a small headache, I got up for breakfast, but I got help from Atirda. He was equipped with everything possible by packing masks, gloves and also headache powder in the trunk of the car. After the powder, I felt great despite a short night's sleep.
We set off in a light rain, which then occasionally turned into heavy rain. The rain didn't bother us because we knew the sun was shining in Albania. Now we were just waiting to see how the temperature would start to rise the closer we got to the goal.
We left Poland before Atirda, which turned out to be a big mistake. Our navigator unobtrusively headed for the Czech Republic, even though it was intended to go directly to Hungary. After we had driven for a while and had run for half a hundred kilometers, we found ourselves going west instead of south. We tried to find a new route, but at that point, all of our navigators we used for some reason seemed confused and bugged and couldn't find any sensible route.
At that point, Raimo dug up his old Garmin suitcase and it turned out to be a good solution. It found a route, but it inevitably passed through the Czech Republic. Thus, we got a new state on our list of transit countries. At this point, Atirda was already far away in Hungary. We should have humbly let an experienced driver lead our adventure, but that life is not over a hundred miles away. We swallowed our shame and called Atirda to proceed with a slight delay.
Like all other borders so far, we crossed the Czech border. We drove straight through without stopping. When we ended up in the Czech Republic, we bought a vignette from the nearest gas station, ie we paid a toll. If the police stop and the vignette is not on the windshield, a large fine will result. After seeing the huge sunflower plantations, I knew right away where the Bird Seeds I used to feed the birds in the winter came from. Sunflowers were also grown in the next few states, so of course I can't be sure of the country of origin of the bird food.
Slovakia was bypassed very quickly near the border, driving past Bratislava towards Hungary, which I had visited before. In Slovakia and Hungary, the vignette is a necessary acquisition and there were no border formalities in either. Hungary seemed to be the promised land of wind power. Immediately after the border was a large windmill park where long wings grind electricity. Motorways crossed this country and the journey progressed quickly past Budapest towards Serbia.
Our journey to the Serbian border stalled for a long time because the inspection was thorough and the trunk lid of each car had to be opened and looked closely. The checks in the adjacent queue seemed to be going much faster than ours, until the senior border guard went to give instructions to the young border guard. The tailgate was then opened, but after a quick glance he was allowed to cross the border.
I had heard reports of dishonesty by the Serbian police, so I did not dare drive speeding there. It was not amusing to give the police reasons to stop and perhaps pay the police bonus. Serbia's initial share was like a large Ostrobothnia; really flat and invisible to the corn and sunflower field. There was a motorway through the whole of Serbia, for which a small toll had to be paid, but the journey went very quickly. We were on the side of the next day for a couple of hours, wondering if the Kosovo border could be open at that time. The road deteriorated quite a bit and meandered through the villages, so I had to keep my tongue in the middle of my mouth while driving in the dark. We were still waiting for the state border before it was suddenly in front of us.
Raimo had bought a quality television from Finland, which immediately caught the attention of the Serbian border guard. Raimo received a receipt from the television. When it was not immediately found, the border guard wrote a € 600 lawsuit. This amount would have had to be paid for the television to be able to cross the border. Raimo refused to pay, so the borderman gave me a pen and waited for me to bid on the price. Fortunately, a receipt was found among the emails. Borderman looked at the receipt very reluctantly, but accepted it because nothing else could really do. We didn't have to pay for TV a second time this time, but we learned that receipts are worth bringing in for new items. Some products seem more interesting than others because my floor lamp was not of interest to the frontier at all. However, some fees still had to be paid here because the Green Card is not valid in Kosovo. Therefore, I had to buy car insurance from the border.
The journey continued through Kosovo again along the highways. Should tolls be introduced in Finland as well, so that we have as good roads as there are in southern and central Europe. One important note for visitors to Kosovo. Roaming is definitely worth shutting down. There are huge data transfer charges in Kosovo. I only received a payment of € 25 for the data transfer, even though I didn't even consciously use the internet. I have heard of surprise bills of up to a thousand euros. For some reason, the data ceiling may not work there either.
Soon we were on the Albanian border where our passports were checked and we were asked where we were going. The border officer wished you a good trip and we set off to climb the long slope of the mountain. The morning was already beginning to dawn in the very stunning and rugged mountain scenery. The landscape seemed so ruthless from a safe car that we were considering surviving in the mountains without food and drink.
Originally, our plan was to stay overnight in Kukes, but we made a quick change to the plan and drove straight to Tirana. We arrived there in half past six countries. We ate breakfast in the morning sun and rested in the hotel room for a few hours before I left for Vlore and Raimo continued his journey to Saranda for further adventures.
A car trip to Albania is therefore a completely viable option if you want to experience something new alongside air travel. Time must be set aside for at least two days, which requires considerable guerrilla spirit and the condition to drive a car, as well as the endurance of the sitting muscles. I recommend two night tactics and even then the driving days are not short. From Jyrinkylä in Liperi, the distance was 3,600 kilometers. In this respect, the people of Southern Finland are in a better position when the distance is almost five hundred kilometers shorter.
I'm writing this blog early on the hotel balcony while listening to the roar of the waves hitting the beach. As the breath of the warm wind whispers, I thought the trip was worth it and I'm glad I dared to leave.
Journey home begins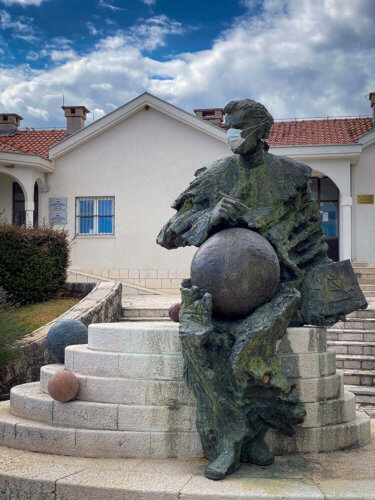 This trip to Albania, too, turned into an adventure. Hungary closed its borders to countries with a red rating due to Covid 19 outbreaks.
Undeniably, stress was caused by Albania shining red on the map. The situation was not helped, even though I made a transit application to the Hungarian police. It came back as a boomerang. So we can't get back on the same route and now we have to try an alternative route.
I set out to make a new travel plan, and at the same time I was afraid that other countries would follow Hungary's example. I decided to try the route through Montenegro, Bosnia-Herzegovina and Croatia. There was also a ferry trip to Italy and from there by car. However, it would have extended the journey even further.
As a precaution, I asked the embassy in Athens to write me a travel letter asking me to give me the right to pass on my way home to Finland. Luckily, that document didn't have to wait long and it bumped into my email almost immediately.
The return trip literally started on Sunday during the rooster crowing, because my apartment is heard from the terrace of the apartment in the mornings like a rooster puck. I bought a lot of energy drink from the nearby market. There was again a touch of excitement and a jump in the unknown with the travel atmosphere.
I turned from the home street towards the front of the car to Hani i Hott, where Bozhaj was the border crossing between Albania and Montenegro. However, I thought I would quickly leave Shëngjin to greet Atirda Petah, whom I had met on Facebook Albanian groups. Atirda has already made several trips in her own car and again I got good advice from her on my trip.
When I returned from Shëngjin back to the main road, the police stopped me because I had driven wrong at the intersection being renovated due to road works. Personally, I did not quite agree with this. When I opened the window, the police handed me over in Albanian. I listened humbly and then asked, "Do you speak English?" The police were confused because they had clearly not looked at my license plate and did not speak any English. However, he quickly assembled himself and peeked at the license plate. Then he said cheerfully, "Finland!" and then: "Helsinki, Helsinki!" I replied that I have a long journey home, after which he gestured forward. I understood that permission to leave had been obtained.
The border on the Albanian side went through throwing through. Smoke popped out the window as a smoking clerk asked for my passport and car papers. After a cursory inspection of the documents, he gave permission to proceed. On the Montenegrin border, continuing the journey was not quite simple. Borderman made several calls while I was excited, which is a verdict. Did not help the embassy travel letter: "They do nothing here." During the calls, I would ask another border guard, who by the way reminded David Caruso of SCI Miami, "Is there some problem?" He replied that Covid was a problem everywhere, but eventually the crossing permit would hang and I was able to continue the journey.
Next up was the border with Bosnia and Herzegovina in Brdon. The border officer put the mask on his face and told me to do the same. Fortunately, they were still found in the car. First, the clerk inquired about a negative corona test. At the time, I thought the trip to this would seem to be a breeze, but then I remembered the existence of the travel letter and gave it to the clerk. It clearly impressed and he wished me a good trip.
Bosnia-Herzegovina began with spectacular rock formations and a soaring serpentine road down the mountain slope. Enthusiastic about the mountains, I was very impressed with the postcard scenery the road offered.
I drove through a beautiful and idyllic little village where people walked leisurely along the village trail. I saw a pub called Jazzina along the way and the first thing that came to my mind was being culturally conscious in this village and listening to jazz live in the village's own living room. After a while, I saw the nameplate of that village, which showed that the name of the village was Jazz, which means that it is not a pub specializing in jazz.
In the center of the next village was a statue on the face of which a joker had put a protective mask. That's where the most exciting driving experience of my life began. The road narrowed little by little after each intersection. I was already thinking of turning, but the road was paved and there was little signposted to Neum. I was on my way there, so I hadn't gone astray. The road meandered along the edge of the mountain so that nothing could be seen on the other side of the bend. The videos I watched came to mind, with cars driving in similar places, some tires on the road and others already on a cliff. I stubbornly continued my journey on this one-lane road.
I wondered where I would dodge if cars came up. It occurred to me that even if the road is parallel and I am heading in the wrong direction. Then it happened – just at the bend – panic braking and I looked in the rearview mirror. I dare not reverse and also drive further, because already at that moment the tires on the right side of the car were almost on a steep slope. A little bit already a pound, but luckily another car already canceled. The driver found a slight widening in the inside corners and got past him by folding the side mirrors against the side of the car. That's when it occurred to me that if you're not afraid to do Benji jumps, it's worth buying an apartment in Albania and exploring the mountain roads.
After the car that hit the couple, the road descended to the bottom of a gorge full of smoke. The burner stood proudly on the side of the road and watched as the fire swallowed the grass. He apparently had a job in his glove, even though the grass was parched. The batteries in my hybrid car fully recharged to the last bar during a recent soar that had never happened before. Usually the beams are around halfway through. He was already worried that the flashes would start throwing under the back seat.
The journey continued through a small idyllic village until the road began to ascend back to the mountain as a serpentine meandering. Fortunately, the road widened a bit as more cars started to hit. Apparently, their navigator also interpreted this route as faster than the coastal route. According to the navigator, there could have been eight dozen on the road. Maybe Juha Kankkunen would have succeeded, but it would have been a pity for the opponents. The overtaking was successful with a nip button. It was then that by chance I saw a bus landing a hundred meters above this nightmare. I wouldn't have fit into a shikan at the same time, so I looked for the widest part of the way that I found and waited anxiously. The wait was rewarded and after five minutes a bus full of people passed me happily.
After a section of road that seemed at times desperate, I finally arrived in Neum, where I got a pass to Croatia from a cheerful border guard by just blinking a passport. If you are driving on approximately the same route as me, check that your navi is directing you to the Croatian coastal road and not the Bosnian mountain road. Except if you want excitement from your driving route, tummy tuckers and handsome mountain scenery, I could even recommend the Bosnian route.
Driving through Croatia was a great experience – miles of tunnels, greenery and stunning mountains. At times it felt like I had been driving in Teletap land. My conservationist spirit woke up as I dodged overdriven hedgehogs. There were countless dead hedgehogs within a few miles. Their appearance differed from that of a traditional hedgehog with a lighter coloration, and to me their muzzle also looked different. During the break, I did a Google search and found an explanation; they were migratory hedgehogs, or Mediterranean hedgehogs.
I drove most of the territory of Croatia along very good motorways. I had never before known that even highways can meander and down the slopes of a mountain. The price for motorways totaled approx. 40 euros, which I felt quite expensive. On the other hand, on a good and fast road, it was reasonable to pay for the horror after miles.
I started to be near Zagreb and the clock was approaching eleven, when sleep was already starting to weigh my eyes. After all, I had been driving almost one ring for 15 hours and the meter had accumulated about 1,100 kilometers. I decided to look for a place to stay specifically along the road, even though there was plenty of hotel offerings in Zagreb. I didn't want to go on an adventure tired in a strange city and didn't have fun going off the route.
The first roadside motel I had found had closed, even though the motel signs were still in place. Another of you, Motel Plitvice – not a luxury place, but it suited me. After turning on the toilet lights, I saw a few wicked little ones running into hiding. However, I was confident that they would not be found in bed.
I had brought the final bottle of cheap wine from Vlore. It suited the atmosphere of this motel well. In Hörp's bed, wine was straight from the bottle as I wrote down a few lines along the way.
There was no need to wait for sleep after that and I woke up early in the morning for breakfast. I sat down at the table and was about to start eating as a masked motel employee politely escorted me to another table. The table I chose was reportedly too close to other diners. The second driving day had arrived.
The rest of the way
The next day I went for a fresh ride. The goal is not to get lost once on slow or dangerous sections of road. You quickly got to Slovenia from Croatia by showing your passport. On the other hand, there would have been a really long queue that seemed to stand still.
In Slovenia, the landscape has already become a little smoother, at least when viewed from the motorway. If you wanted to see the scenery, it would have been worthwhile to get around the smaller roads. However, I was already in a hurry to Finland and that's why I chose the fastest route. I had to remember to buy a vignette from a gas station and now I got it glued to the window. On the way in, I just put it between the window seals. Hopefully there won't be a ticket in the mail if the automatic readers didn't find out about the vignettes.
It didn't take long for Slovenia to go to the Austrian side. Even that was enough to show a passport and buy a vignette. Driving through Austria was also just a highway and here and there wind farms. Travel fatigue was already beginning to weigh on me, as only from time to time and I could no longer focus on the scenery or even look like it from very strange highways. I seem to be exhausted because I never saw the Czech border. I didn't even see border buildings or anything like that. Suddenly, only a message appeared on the car's navigator to move to the new state.
The vignette I purchased on the trip was still valid that day because the shortest validity period is 10 days. An interesting and wonderful fact was that Polish customs were not visible at the border crossing point. Or I didn't go through an official border crossing. I can blame the navigator for that!
Driving through Poland, on the other hand, had plenty to do, even though I was allowed to drive on motorways again. I have not yet learned to understand the speed limits in Poland. Only occasionally were there strange restrictions of 70 or 90 kilometers in strange places that never expired. According to the navigator, it was possible to drive at a speed of 130 kilometers per hour. Apparently those slower restrictions applied to trucks, which were really plentiful in Poland. If any more experienced European traveler reads this, I would love to hear sure about the restrictions.
The good travel speed was cut off like a wall at a road work. I have not come across any such jobs in Finland as in Poland. I spent almost an hour in a queue in the middle of the trucks before the queue slowly began to pull. In Poland, therefore, one can be prepared for the fact that unless the crashes interrupt the journey, at least the road works will do so. So it's not worth doing a minute schedule for yourself because it's impossible to keep it. For this reason, I did not book a ferry to Tallinn in advance, but only along the way from the Baltics.
Before the Lithuanian border, it was time to close your eyes and stab for a long time. This time I was using the Booking.com app and quite consciously looking for cheap places to stay along the way. On the way in, we went to eat in a town called Suwałki, about 30 kilometers from the border, and I thought I was looking for a place to stay.
The accommodation I chose was Apartamenty-Europejska, which I can recommend with warmth. Very clean and in good condition apartment hotel, the price was very reasonable and included a varied breakfast. I called the hotel and asked if I could still get in if I didn't come until after midnight. The friendly person said the security guard would get the key to the room.
Finding a hotel became a problem. The navigator informed me in the middle of the roundabout that I had arrived. I drove around a couple of times and stopped at the cheek of the road to look at the map to no avail. Then I opened the side window to get a better view of the environment. It rained quite hard. Surprisingly, I saw a small sign on my cheek with the name of the hotel and an arrow out of the junction. The hotel and the guard were found. I got the keys and climbed the stairs a couple of floors up to a great room. This day was now full!
There were only about a thousand three hundred miles on the second day, which is a little strange. Only two hundred more than on the first day, although now I was actually able to drive on the highway highways. Apparently the road work slowed down so much travel or else after all, the pace doesn't matter as much in travel times as you might think. Many other things affect the final travel time more than the pace.
Before falling asleep, I wrote down the day's events for the blog, but then the dream called. After the morning shower, I headed downstairs for breakfast, which was the finest and most varied I had enjoyed during this trip. Meat and a variety of pate, mayonnaise, bread and cheeses, but also traditional eggs and grilled sausages and more. My stomach was properly refueled for the day's trials. One strange practice was with coffee. There was hot water and crumbs that looked like filter coffee in the jar. I came up with no other solution than pouring hot water into a cup and adding a fair spoonful of chews. It became a very campfire-like drink without boiling. But I got drunk and the journey went on.
Suwałk was not long on the Lithuanian border, which I passed without stopping, as well as other Baltic borders. I was struck by a wind turbine whose rotors had gone awry. Would the brake have failed and the revs increased too much. Also of interest was the giant tube forest, which looked quite wild. Apparently, the battle against giant tubes has almost disappeared in the Baltics. I passed these three countries so quickly that, unfortunately, I do not even remember which country would already be in a real hurry to take care of the eradication of this invasive species.
In this way, there was more work left on the Finnish side. However, it does not count, because then you are already at home. The meter covered less than 3,600 kilometers on the way in and this is how the contract was completed. I may not be leaving my own car for that long trip again, but I proved that it is possible alone. Of course, driving with someone else almost halves the strain of the trip and I can recommend it instead of driving alone.
Summary
A great trip to Albania is back again. I have now visited Albania three times and have never had time to see the sights. The first time I visited was in December 2019, the second time in March 2020 and now in the summer of 2020. The first time during the coldest time of the year I fell in love, the second time I was shopping for an apartment and now I traveled in my own car to take care of the apartment and make furniture orders. The next time will come in October 2020, provided Covid 19 does not pose obstacles to travel. Then it's time to finish the apartment.
Perhaps then it will be possible to take a closer look at the reasons why people usually travel to Mediterranean countries. In fact, I don't even like sunbathing or beach lounging, but morning jogging by the green water of emeralds and watching the mountain scenery provides the much-needed elixir and vitamins of life.
The kindness and helpfulness of the Albanians has impressed me greatly. I have already highlighted several examples of this in my previous blogs, but I can only be surprised over and over again. I stopped by a hardware store to buy masking tape and happened to pay the seller to ask what furniture store nearby they could recommend. The salesman thought for a moment and made a quick call. He said wait five minutes so his friend will show the way.
After a while, two women came to the store and asked to drive after them. We drove along some small streets until we came to the courtyard of the industrial hall. We went in through the gate and arrived at the carpenter's workshop. It turned out that the older woman was the carpenter's wife. He lamented that the carpenter himself was traveling, but he is happy to showcase the furniture they made. The products looked very high quality and were made by a local carpenter. I told you what we needed for our apartment and I got a very good offer. I placed an order for two chests of drawers, which they promised to deliver to the apartment by the end of September.
One more example of youthfulness is a must. When I arrived in Vlore, I stopped by the roadside to look for a place to stay on Booking.com for the first couple of nights. I found a nice little seaside hotel and the Google maps seemed to guide me to my destination. But I ended up in a completely different hotel yard. In Vlore, and apparently in Albania in general, there are problems with mapping for address programs because there are not necessarily house numbers to navigate.
A few young people were found in the hotel lobby – I'm not sure they were even hotel staff. I told them the navigator had guided me here even though I had booked a room at the Hotel Ambasador. They asked me to follow and we walked for just over ten minutes talking to them and these. They were interested in Finland and why I had come to Albania. Soon we were at the right hotel and I thanked them for their help and kindness. As if they hadn't done enough already, they still asked if I needed help checking in to the hotel. However, I believed I would cope with the task myself and walked into the front desk.
Of course, not all things go so smoothly. Sometimes a language barrier can cause problems because the adult population may not be able to communicate in English. For this reason, an interpreter might be helpful in handling agency matters, but fortunately there is often an English-speaking clerk at the counter next door and things will be taken care of. It's not a good idea to set aside a minute's schedule in your calendar, as you'll usually be directed to pick up a missing document from another agency and may still have to find a place to take copies. However, things tend to survive and be resolved because the state of mind is always positive and helpful.
When I arrived in Finland, I thought it best to spend some time in voluntary quarantine at the cottage. However, my outdoor feeding ended after a couple of rainy days when I received an invitation to come home. It took a few more days to recover from the travel fatigue, but luckily my vacation still continued and I was able to complete the recommended quarantine until the end.